To the esteemed owners of computers everywhere (or maybe you don't own a computer, in which case you are A. borrowing from a friend or loved one, B. looking over someone's shoulder in a random coffeehouse, or C. in a library perhaps? Either way, you deserve to be addressed too, so I'll change it to "esteemed readers"),
Hello! Welcome to my blog! I'm not sure how you got here, or why, but I hope you stick around awhile! On this blog you will find tales of my daily awkward adventures/struggles, the occasional rant, and my thoughts on everything from fashion and school to tea and the general world. Cool, right? Yeah, I hope so.
But first, since this is my first post, why don't I introduce myself and answer some FAQs? (Who am I kidding, I'm not famous enough to have frequently asked questions! No one cares enough about me for that. So we'll call it some random facts.)
1.) My full name is Madilyn Jayne Turken. Madilyn is spelled funky because I am named after my grandma Marilyn (see, it's Marilyn with a D?). No, my middle name is not pronounced Jane. My middle name is pronounced JAY-nee, and it is never pronounced as Elizabeth, Ann, Lynn, or any of those things.
2.) I'm Jewish! Woo! (However, I'm kind of agnostic/Atheist by religion, or lack thereof, and Jewish by identity. I don't know, I'm still figuring it out.)
3.) My favorite color is blue. Notice the header at the top of this page is blue and my eyes are blue and they are my favorite feature. Water is also blue, and I like water.
4.) Going off of #3, it is at the top of my life goal list to be a mermaid. (No, this isn't a joke.)
5.) Like any young hipster, I enjoy coffee a lot, but I also love a much underrated cup of tea. I am actually in a relationship with tea, and I suggest drinking it as much as humanly possible. Here are some recommendations:
-cold
peach green tea (DO IT AND NEVER LOOK BACK.)
passionfruit tea (Try it at Starbucks, or, like, anywhere.)
chai (#classic)
-hot
cinnamon apple spice (Celestial Seasonings, I'm tellin ya.)
chamomile and mint together (Match made in heaven. Add 2 sugars and 3 honeys. Kindly recommended to me by the lady in the hotel coffee shop in Dallas when I lost my voice.)
chai (#stillclassic)
6.) I love music. In all its forms. I'm a choir nerd, so I love singing, and I also play guitar and I listen to basically every type of music under the sun. My favorite band is Parachute, and if you haven't heard of them, go buy an album and thank me later. In fact, my friend Isaac and I are both obsessed with Parachute and recently met them (disclaimer: I have NEVER fangirled so hard). Please enjoy this ratchet picture of Isaac and I with lead singer, Will Anderson.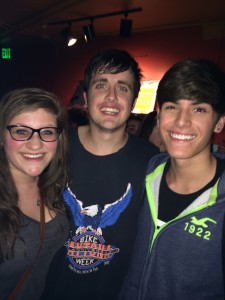 7.) In addition to music, I adore movies. Here are some of my favorites:
-The Parent Trap: Who can resist the adventures of a mischievous pair of ginger twins? (Ok, yeah, they're the same person, don't kill my vibe.) I say ginger because I speak of the Lindsay Lohan version. Sorry if you're a fan of the original, I haven't actually seen it. However, as my all-time favorite movie, I've seen this one approximately 900 times.
-21 Jump Street: Probably the best movie about cops trying to bust a drug ring that's out there. It has Channing Tatum. It has Jonah Hill. It has Dave Franco. What more does a film need really? (I don't recommend watching it with me, however, as I can recite this entire movie and you'll probably want to shoot me.)
-We Bought a Zoo: Sadly, not a well-known one, but it is an oh-so-fabulous account of a family who does basically exactly what the title implies. Based on a true story, I might add. The real one is in England and I am going there one day, I don't even care.
8.) I was born in Southern California, where I sadly no longer live. (I'm not going to tell you where I do live though, ya creep!) But I hope to return to California eventually, as it has palm trees, beaches, Mendocino, and Coachella.
So I hope you have enjoyed virtually getting to know me a bit (if you stuck it out and read the whole damn thing, that is). I'll be posting more randomness on here in the future, so it'd be awesome if you came back and read even more of my nonsense! Until then!
Submitted with undying love for,
tea, mermaids, California, The Parent Trap, blogging I guess, and you if you read my blog!
I remain Madilyn Jayne Turken