Hello people of the Internet!
Long time, no post! How's it going? Sorry I've been a little AWOL recently, as I have been swamped after getting back from my (thanks for asking) ah-mazinggg tour to San Francisco! Here were a few highlights (not necessarily in any order):
1. Alcatraz
Alcatraz island, home to one the of the most famous prisons in the country, is insanely cool. You go and take this audio tour where these voices tell you where to walk and point things out and describe prison life. I recommend going there. So please enjoy this dramatically edgy photo of my in a cell (a cell-fie if you will! lol puns). Also please excuse the awkward audio tour stuff I'm wearing.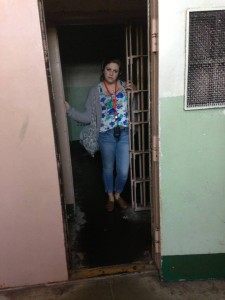 2. The Ferry to Alcatraz
So this is completely deserving of its own thing on the list. Obviously, Alcatraz is an island (God, pay attention), so you have to take a boat there. And I realllllyyyy like boats. And I could show you some pictures of the ocean or something, but I think I'd rather share the obligatory Titanic-esque picture with my friend Jordan. #shesflying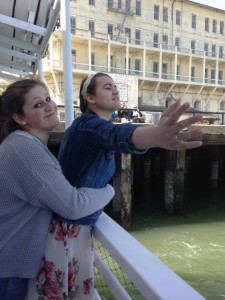 3. Grace Cathedral
Grace Cathedral is the single prettiest church I have ever been to in my life (which is a limited amount of churches since I'm Jewish, but whatever). It legitimately looks like a castle, the door has all these gorgeous carvings on it, and there a ton of colored ribbons hanging from the ceiling inside. It was founded during the California Gold Rush and, oh yeah, we got to sing inside it. If you aren't as much of a choir nerd as me and that doesn't sound cool to you, let me break it down for you: the more amazing the church, the higher the ceiling, the more the echo, the better the sound. So trust me, it's cool.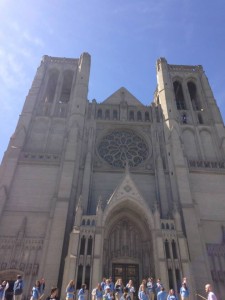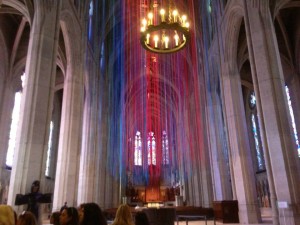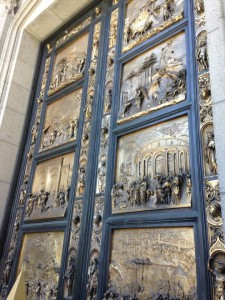 4. That One Hotel with a Sense of Humor
So a couple friends and I were walking to lunch one day, and we passed this hotel. And the doormen/bell boys had these great uniforms. And I know because we saw one getting luggage out of someone's car. And basically it was a beautiful moment and I felt it should make this list because it was clearly a highlight.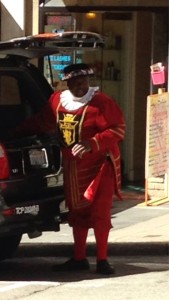 5. Roller Skating
Normally this wouldn't be a highlight because this is an activity that I do the opposite of excel at. Clearly, I don't even know if it is one word or two. However, we rented out a roller rink for a few hours, and I mean we all started out skating (Disclaimer: I only fell once!), but then we ended up just dancing barefoot in the middle of the rink (cause they play music, we aren't just weird). So my friend Tricia and I decided it would be a cool idea to make an Instagram video of us doing ballet to a hip-hop/dance song (since she started dance classes this year and I was a dancer for 11 years–let's just put that out there first). So we took some videos of us both dancing, and finally we got one of me that was an acceptable length and we went to work again on hers. And luckily, our friend got this on camera. (You should know: she was not wearing skates, nor, clearly, was this the original goal of the video.)
http://instagram.com/p/l1Lw1RDqNv/
6. Cable Car Ride
Cable cars, basically like open air buses on train tracks in the street, are really not all that spectacular, unless you make them so. Which, trust me, I did. The cable car was pretty full when we got on, so me a few of my friends were standing on the ledge holding onto poles. And we faced the street, and I immediately began waving at everyone on the street (that's a lot of people in San Francisco). It kind of started as me goofing around and doing the princess-on-a-parade-float-wave. But then I was really enjoying myself, and some people waved back, and then we made it this huge game where we waved at everyone and saw who waved back. I did not stop waving or smiling the entire ride. (Sappy example of something small and stupid can brighten your whole day, which it did.) All I have is this picture of Cristina and me on the cable car, so enjoy that.

7. Lombard Street
By now I'm just kind of listing off basic San Francisco tourist attractions, but they're attractions for a reason! Lombard street is "the crookedest street in the world". On a side note, I ran down it like I was an airplane.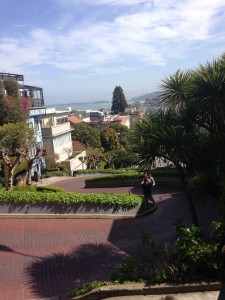 8. Ghirardelli Square
Ghirardelli as in the chocolate company. And I like chocolate. I recommend everything.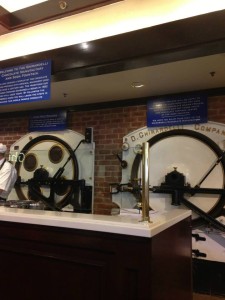 9. Church Service at United Church of Christ
Hopefully, you are staring at your computer screen confusedly: "Wait! You're Jewish!" Pick up your jaw, we sang at the service instead of their usual church choir. (Nothing gospel, sadly.) And for non-religious reasons, it was really cool! As you can imagine, I've experience my fair share of church services (lol no) but this one stood out. Most notably, the minister there was a lesbian woman who quoted Harry Potter in her sermon. Sadly, no pictures for this one, so use your imagination.
So just to recap: I like San Francisco and I also like choir. Peace and love.
Submitted with undying love for,
San Francisco, choir, chocolate, my hotel with the enchanted forest, it's finally Spring Break, and posting again!
I remain Madilyn Jayne Turken