Welcome to a very unique and uplifting list entitled: "The Top 10 Things that Totally Shouldn't Be Sexy, but Somehow Are". I hope you enjoy it, and I hope you either become inspired and relieved or envious and depressed after reading it as well!
1. Turtlenecks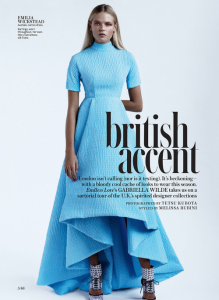 Now when I think turtleneck, I think dowdy old lady and something my mother used to make me wear. And maybe it's just because it's Gabriella Wilde, the unbelievably hot-without-trying star of the remake of Endless Love, but this turtleneck dress is somehow made to be weirdly sexy. Could it be the alluring bright blue, the lace up heels, or the high-low hem? Who knows. Just remember that if you want to try out a turtleneck dress, you are not the tall, blonde, former Burberry model in the picture.
2. Tweed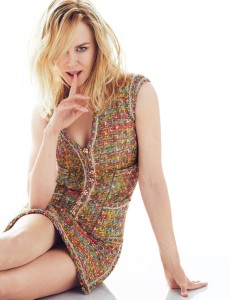 If you are like me and the thought of tweed brings to mind something old and decidedly British, you have not seen this colorful tweed Chanel dress and more importantly, you have not seen it on Nicole Kidman. The pearl buttons should make it seem even more outdated–yet they give it an even more modern feel. Maybe if we all wear tweed with mussed hair and our finger to our lips, however, we can achieve the same sexiness of this photo. (But probably not.)
3. Capes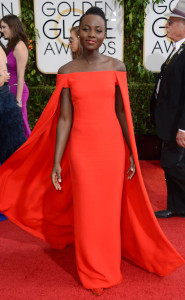 Apparently not just for super heroes anymore! Unless, like me, you consider Lupita N'yongo to be a super hero. She is undeniably drop-dead gorgeous, especially in this vivid Ralph Lauren ensemble with–what is that? A cape?? I could never pull it off like she does, but then again, I would resemble one of the Incredibles, while she exudes grace  and serious sex appeal.
4. Plaid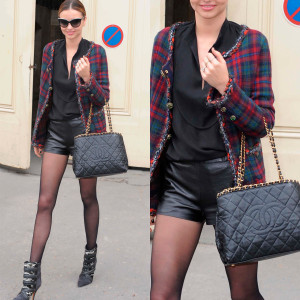 Plaid: synonymous with a schoolgirl or a kilt. But wait! On Miranda Kerr, it totally works with black separates like leather shorts and sheer tights. (If this makes you feel like you too can rock a plaid jacket, remember, you probably aren't a Victoria's Secret model.)
5. Anything You Wear at the Airport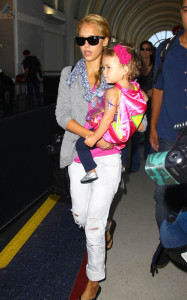 Raise your hand if traveling means sweats, Uggs, and no makeup. (Congrats, you're a white girl!) But for some, like Jessica Alba, it means looking just as fashionable as any other day. Sure, we don't have paparazzi following us to the airport, but she could tone it down a little, right? I mean she is LITERALLY TOTING A CHILD and she looks more put-together than I probably ever have.
6. Jacket Tied Around Your Waist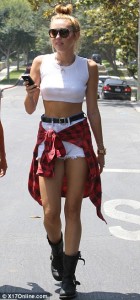 This is that thing that your mom made you do when you were a kid because you didn't want to carry it and neither did she. It wasn't until later that you realized you looked like a poster child for Gymboree. However, it's totally making a comeback, and Miley updates it with flannel, a crop top, and high waisted shorts. Not to mention the red flannel is a pop of color in a black and white get-up. It's cool in the best hipster kind of way and totally sexy.
7. Gym Clothes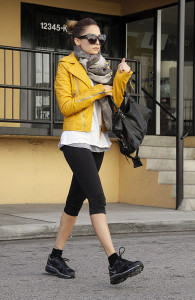 Much like effortless airport syndrome, the gym for me means shorts, a T-shirt, and atrocious hair (if I go to the gym at all, that is). However, once again, some like to prove they can be fashionable anywhere (thanks for making the rest of us look bad). Here, Nicole Richie makes sweating stylish by adding a scarf, an oversize bag, retro sunglasses, and a leather jacket in an unexpected color to her top and leggings.
8. Pajamas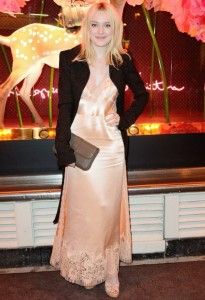 Now I think we all learned from an early age that your PJs aren't for public, but fashion icons are breaking the rules–with surprisingly sexy results. For example, Dakota Fanning went for a silk dress at Louis Vuitton's Fall 2013 show. The pastel pink silk and lace trim is alluring, but she adds polish with a jacket and structured bag. You can try to duplicate the same thing, just make sure you are A. Dakota Fanning, or B. at a major fashion show.
9. Shoulder Pads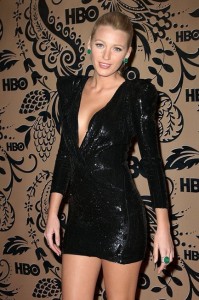 Apparently not just for football players or the 1900s anymore! With the right modern touches, shoulder pads can be a cool accent and can have sex appeal, or so I have found after browsing the good old Internet. Blake Lively chose a Balmain dress with a deep V and sparkles, adding the perfect backdrop for unexpected shoulder pads! If you want to get something like this and try it out, try being Blake Lively.
10. Neoprene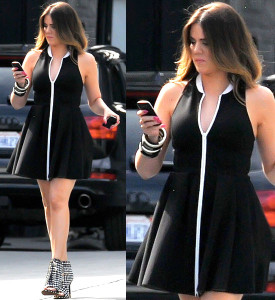 You know those wetsuits you have to wear when river rafting? Yeah, that material is neoprene. However, it can be made into something stylish, and even sexy with V-necks and zipper detailing, seen here on Khloe Kardashian. She also kept accessories in the same color family to let the neoprene shine (there's something you don't hear everyday).
So there you have it! You too can take something you never would have thought could be sexy and make it so! By the way, I was only a little bit serious when I said you could only pull this off by being these people. I'm sure with the right fashion savvy (that's a word, I promise), you could look just as sexy as the women in these pictures. I just probably won't try it myself.
Submitted with undying love for,
turtlenecks, tweed, capes, plaid, airport wear, jackets tied around the waist, gym clothes, pajamas, shoulder pads, and neoprene,
I remain Madilyn Jayne Turken