Today I was reading People magazine, like I do every week for God knows what reason, and I saw something about Selena Gomez just finishing a stint in rehab. Now, I don't know about you, but I consider myself to be pretty in tune with what's happening in the famous-person-stratosphere (because of my incessant People reading), and I was unaware she went to rehab at all!
I know what you're thinking. Who gives a shit? Just calm down, I'm getting to the point.
It is often a point of discussion: all of those child stars end up corrupted and in rehab. And then we reminisce on the rare child star who made it boldly through the Hollywood party scene unscathed and went on to have "happy families" and "bright futures", unhindered by their "immense talent". So let's talk about those stars for a minute, and take a moment to find out Where They Are Now.
1. Hilary Duff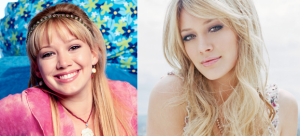 Her start: This bubbly personality starred on Disney Channel's Lizzie McGuire from 2001-2004 and also starred in the movie. Lizzie McGuire aired when she was 13, but her first role came when she was 10. She was also in a few other movies such as A Cinderella Story in 2004 (it's kind of the only Cinderella remake worth your time) and she even guest starred on a few shows, including Gossip Girl.
Where are they now?: Despite her own show on Disney Channel, Hilary Duff was never in rehab and married and had a son! Sadly, her and her ex-husband, hockey player Mike Comrie, divorced (amicably!) in January. But they still co-parent and raise (almost) 2-year-old Luca!
2. Raven Symoné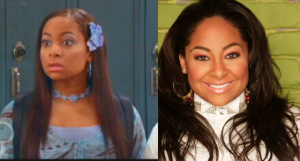 Her start: Raven starred as the sassy psychic Raven Baxter on That's So Raven, also a Disney show! It ran from 2003-2007, but her first role was on the Cosby Show at 3 years old. Aside from her success on That's So Raven, let's not forget her other starring role as a Cheetah Girl in the first and second movies! She also released several albums and had roles in a few other movies and shows, as well as voicing Monique in Kim Possible.
Where are they now?: Today Raven lives mostly out of the spotlight and often steps out with her model girlfriend (Yes! You read that correctly!) AzMarie Livingston. She was in Sister Act on Broadway in 2012 and has not been to rehab nor has she been caught in any sort of cheating scandal! Props.
3. Cole Sprouse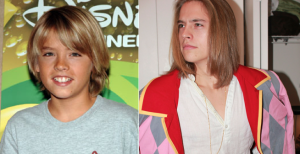 His start: You know him as 1 out of 2 of the mischievous twins from the Tipton Hotel in The Suite Life of Zack and Cody, which he starred in at age 13 from 2005-2008. Him and his twin brother (who doesn't appear on this list due to his nudes that are floating around) then starred in yet another Disney Channel show, The Suite Life on Deck, until 2011. However, Cole's first role came at age one in Grace Under Fire. He had a few other guest roles on various shows, but most of his roles were as Cody Martin.
Where are they now?: Today, Cole Sprouse is something of a hippie/philanthropist and he is interested in archaeology, anthropology, journalism, photography, and performance (or so his Twitter bio claims). Turns out him and twin brother Dylan Sprouse wanted to get involved with the production side of things on their show before heading off to college. When Disney shot that down, they left, and now both attend NYU. Cole recently took trips to Japan and Bulgaria, and enjoys college life with his longer-than-shoulder-length hair.
4. Miranda Cosgrove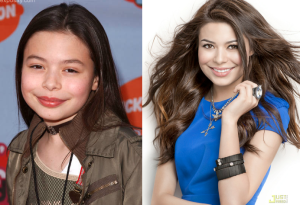 Her start: The first of the list not to have her own Disney show! Ah but wait, she had her own Nickelodeon show. Miranda starred as a perky teen in iCarly from 2007-2012 after playing the evil little sister Megan on Drake and Josh from 2004-2007. Her first role, however, came at age 8 on the TV show Smallville. She has also appeared in several shows and movies like School of Rock and Despicable Me (1 and 2) as well as releasing one album and two EPs.
Where are they now?: After wrapping iCarly, she voiced a role in Despicable Me and is currently filming two different movies while she attends USC! She also works with Oceana to protect dolphins from seismic airgun blasts (cue the "aww"). So no rehab stints, no scandals, no nudes, and she's a college student working to save endangered animals?
5. Emily Osment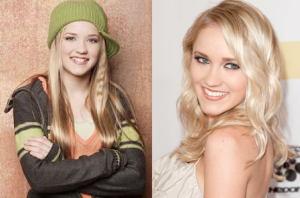 Her start: Though she began at age 7 in The Secret Life of Girls, Emily Osment really found success as Miley's quirky best friend Lilly on Hannah Montana from 2006-2011. She has also had small roles in many other shows and movies such as Beverly Hills Chihuahua, Spy Kids, and Family Guy. She has also had one album and one EP.
Where are they now?: With no big scandals to speak of, Emily Osment continues to work on movies, some of which are filming or in pre-production. After Hannah Montana, however, she went to college! So luckily her post-Disney life has been pretty low-key, different from her friend Miley's, because we all know how that one turned out.
Submitted with undying love for,
Disney Channel: the creator of well-rounded and well-adjusted humans, the actually well-rounded and well-adjusted humans (rare, but there), Hilary Duff, Raven Symoné, Cole Sprouse, Miranda Cosgrove, and Emily Osment,
I remain Madilyn Jayne Turken